Tweet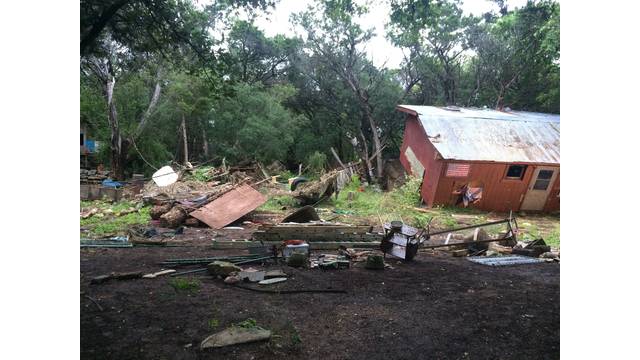 Severe weather moved out of the San Antonio and surrounding area late Monday night after a weekend of historic flooding across South Central Texas and other parts of the state
KSAT Weather Authority Meteorologist Mike Osterhage says Tuesday will be partly cloudy with isolated storms and highs in the upper 80s. Mike says we will see a lull in the weather the next few days before rain chances increase again on Friday.
The small reprieve from the rain comes after historic flooding over the holiday weekend across the state.
Heavy rain and significant flash flooding continued early Tuesday morning in parts of Houston. The National Weather Service reported between 6-10 inches of rain had fallen there Monday night.
In Hays County, recovery teams are set to resume looking for the 12 members of two families who authorities say remain missing after the rain-swollen Blanco River in Wimberley carried their vacation home off its foundation, slamming it into a bridge downstream.
Trey Hatt, a spokesman for the Hays County Emergency Operations Center, said Monday night that the "search component" of the mission was over, meaning no more survivors were expected to be found in the flood debris along the Blanco River.
Relentless storms Monday hampered the search for missing people. Rescuers used helicopters to heave residents off the rooftops surrounded by flooding.
Search efforts were also complicated because Hays County still has Internet problems and cell phone networks are overwhelmed. Up to 400 homes have washed away in Hays County.
As of Tuesday morning, two deaths had been reported due to flooding in South Central Texas. One in San Marcos and a Devine teenager who was in a car swept away by raging floodwaters late Saturday night.
Further north, evacuations were underway in Austin due to rising water that's threatening homes.
The Austin American-Statesman reported early Tuesday that some houses in a neighborhood in eastern Travis County had flooded after the Deck Creek left its banks.
EMS spokesman Mike Benevides told the Statesman crews had used boats and helicopters to rescue some residents and were conducting a door-to-door search.
It wasn't immediately clear how many rescues had been conducted. There were no immediate reports of injuries.
The same storm system that wracked Texas also reportedly spawned a tornado along the border in Ciudad Acuna, Mexico.
Authorities were searching for victims and assessing damage after a tornado Monday killed 13 people and left at least five unaccounted for. Another 200 were injured.
Officials said the twister ripped through the border town in less than six seconds with a ferocity had not been witnessed in more than 100 years.
---
COPYRIGHT 2015 BY KSAT AND THE ASSOCIATED PRESS – ALL RIGHTS RESERVED
Source: Historic flooding leaves trail of damage across South Central Texas
(Visited 72 times, 1 visits today)
Tweet